Todd Harris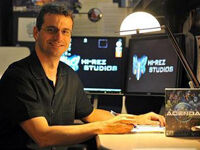 Todd Harris is the Co-Founder & Chief Operating Officer. Todd submitted his first computer game to the University of North Carolina at Chapel Hill as part of his college application, since writing games was more fun than writing essays. After obtaining his BS in Computer Science from the same university, Todd entered the software engineering industry, eventually managing next-generation Product Development efforts at NCR, Radiant Systems, and BlueCube Software.

As Director of Product Development at Radiant Systems, Todd's group helped Radiant grow into the premier point of sale provider to retailers.

As VP of Product Development at BlueCube Software, the company developed an online technology platform, and a suite of enterprise management applications installed in over 25,000 retail sites.

In 2005 Todd along with Erez Goren founded Hi-Rez Studios to deliver exceptional online entertainment via computer games. With over 20 years of technology leadership experience, Todd is now an active contributor to the growing Georgia gaming industry, including advising area game and art schools on their programs. At home, Todd enjoys playing Global Agenda and many other games with Kira, 11, and Alec, 8, occasionally passing the controller to wife Mini.