Enchanted Chronicles Battle Pass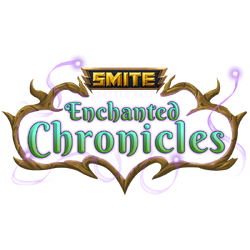 The Enchanted Chronicles Battle Pass was the seventh Battle Pass to be introduced to SMITE. It was released on January 28, 2020 and ended on March 24, 2020.
Players must accumulate a total of 60000

Battle Points to unlock all the items in these tracks.
⠀


Level 4
⠀


⠀
5% BP Boost


Booster

Level 34
⠀


⠀
5% BP Boost


Booster

Level 52
⠀


⠀
Skin
Team Booster

Level 54
⠀


⠀
5% BP Boost


Booster

Players who own the premium pass can complete additional quest objectives to earn extra BP. There will be 16 quests in total, with two new quests being made available each week. All quests can be completed at any time up to the very end of the battle pass. Completing all quests will grant a total of 8000

.